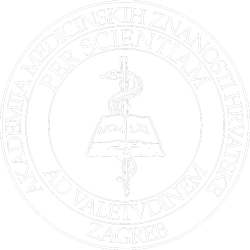 TEČAJEVI AKADEMIJE MEDICINSKIH ZNANOSTI HRVATSKE
TEČAJEVI AMZH 2023.
Značaj rane dijagnostike i mogućnosti liječenja karcinoma pluća


Split, 13. svibnja 2023. • Velika predavaonica KBC-a Split, bolnica Firule

Voditelj tečaja: Vide Popović, dr. med., KBC Split, Klinika za plućne bolesti
Tečaj je namijenjen specijalistima i specijalizantima pulmologije, onkologije, obiteljske medicine, radiologije, torakalne kirurgije, patologije, citologije te liječnicima drugih struka i medicinskim sestrama/tehničarima koji se u svakodnevnom radu bave bolesnicima s karcinomom pluća.
Za sve sudionike Tečaj će biti bodovan prema pravilniku Hrvatske liječničke komore i Hrvatske komore medicinskih sestara.
Prijave za sudjelovanje na Tečaju promaju se na e-mail: tecaj.capluca@gmail.com do 5. svibnja 2023.
U prijavi navesti ime i prezime, zanimanje te ustanovu zaposlenja.
X. ANTIBIOTIC SUSCEPTIBILITY TESTING COURSE
– the role of diagnostic and antimicrobial stewardship
Zagreb, Hotel Academia 23 – 24 February 2023
• Croatian Medical Association Croatian Society for Clinical Microbiology Section for Antibiotic Resistance
• University Hospital for Infectious Diseases "Dr Fran Mihaljević"
Reference Centre for Antibiotic Resistance Surveillance of the Ministry of Health
• Croatian Academy of Medical Sciences Public Health Collegium Committee for Antibiotic Resistance Surveillance
• Enhanced Networking on Antimicrobial Resistance Surveillance with Next Generation Sequencing, AmReSu Horizon 2020
COURSE PROGRAMME
Over the many years we have been working together on improving and harmonizing the methodology on antibiotic susceptibility testing and we are happy to announce the jubilee 10th course on antibiotic susceptibility testing. Adopting European standards as national ones significantly helped the standardization of laboratory work among not only Croatian, but also European laboratories. We are aware, however, that bacteria are adapting more and more rapidly to the increasing exposure to antibiotics and continuously present a challenge in detecting new resistance mechanisms. The increasingly complex mechanisms of resistance on the one hand and the rapid spread of resistant strains on the other hand require a more detailed analysis of strains using molecular methods. Therefore, we are glad that the Reference Center for Antibiotic Resistance Surveillance of the Ministry of Health at the University Hospital for Infectious Diseases together with partners from Hungary, Belgium and Spain is involved in the project "Enhanced networking on antimicrobial resistance surveillance with Next Generation Sequencing (AmReSu)", through which we hope to gain additional knowledge and experience needed to provide a better analysis of the isolates collected within the Croatian network of laboratories. Detailed analysis of bacterial isolates has, however, its purpose and justification only if the isolates were collected because of good clinical and laboratory practice. The focus of this course is, therefore, on the standardization of procedures in the diagnosis of the most common bacterial infectious diseases. Most bacterial infections nowadays are caused by members of the human microbiota, and bacteriological testing can often be completed correctly only because of an individual approach to the patient and close collaboration with clinicians. We hope that the interactive program will enable us to analyze common dilemmas in practice together, as always at our courses we expect a nice friendly atmosphere, and we wish everyone a pleasant stay in Zagreb.
Assoc. Prof. Arjana Tambić Andrašević, MD, PhD, FESCMID President of the Croatian Committee for Antibiotic Resistance Surveillance
Chairs:
Assoc. Prof. Arjana Tambić Andrašević, MD, PhD Iva Butić, MD, PhD.
Irina Pristaš, MD
Faculty members:
Assoc. Prof. Arjana Tambić Andrašević, MD, PhD. Nataša Andrijašević, MD
Assoc. Prof. Suzana Bukovski, MD, PhD
Iva Butić, MD, PhD
Carla López Causepé, PhD
Assoc. Prof. Rok Čivljak, MD, PhD
Prof. Surbhi Malhotra Kumar, PhD
Asst. Prof. Neven Papić, MD, PhD
Irina Pristaš, MD
Assoc. Prof. Ivan Puljiz, MD, PhD.
Asst. Prof. Tomislava Skuhala MD, PhD
Prof. Dora Szabo, MD, PhD
Silvija Šoprek, MD
Kaptol 15, p.p. 27.
10000 Zagreb, Hrvatska
ponedjeljak - petak
09:00 - 13:00